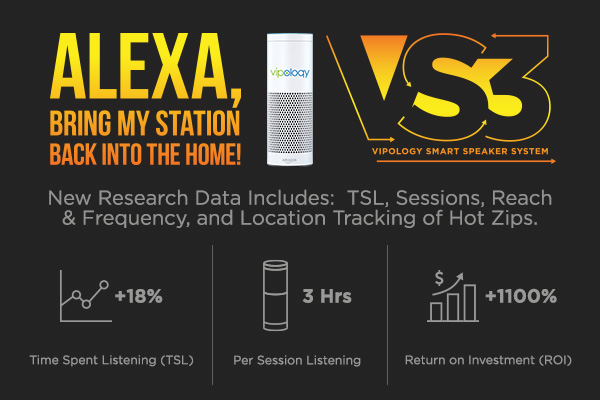 LOS ANGELES, CA, September 20th, 2018 – Vipology, a leading technology company engaged in building digital products and services, announces long-term partnerships with nationally recognized broadcasters Local Media San Diego, Leighton Broadcasting, Auburn Network Inc., Dickey Broadcasting Company, Big Thicket Broadcasting, and Mapleton Broadcasting to VS3 (Vipology Smart Speaker System), via Amazon's Alexa.
"We're attracting the most forward thinking radio groups in the country because of our smart speaker system, VS3. Our industry leading sales capabilities have resulted in 1100% ROI for our partners. VS3 also generates incredible real time user data that supports programming and sales." Chris Peaslee, CEO Vipology
That's right – now VS3 details valuable user data such as Sessions, TSL, Reach & Frequency, and user locations identifying Hot Zips for programming and sales.
"WOLF FM Syracuse listeners now listen nearly 3 hours per session, and we've increased our streaming TSL by 18% in just the last 60 days! We're on track to have more Vipology VS3 users than mobile app users!" Sam Furco, VP/Station Manager Inner Harbor Media Syracuse NY
For more information on VS3, the industry's leading smart speaker solution that gathers user data for programming and sales, contact Michael W. Kay at (213) 432-1800 or at [email protected].